As the newest Kodi add-on to hit the scene, Mercury is giving users an in depth look into their favorite movies and documentaries with a focus on quality over quantity. This means that you'll be able to find a movie or show that matches your mood rather than forcing yourself through hours of filler content searching for something worth watching.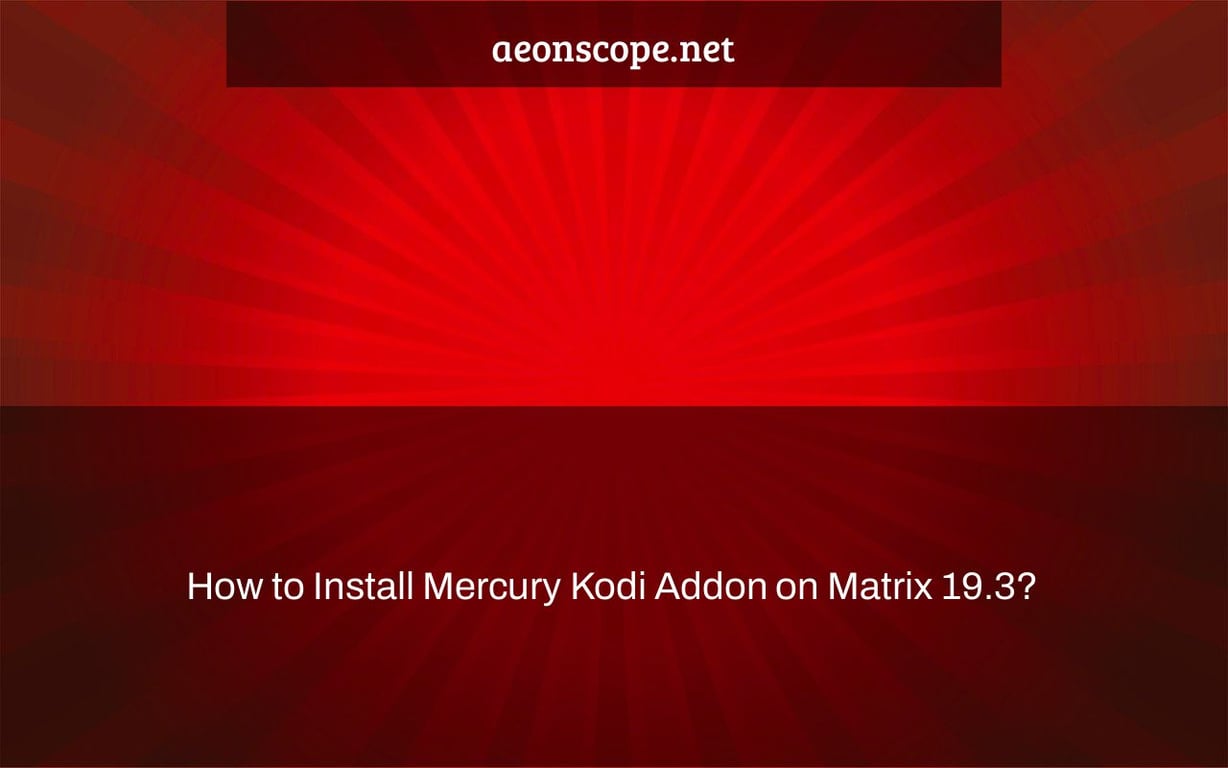 Mercury is a recent Kodi Video addon that can be found in the Kodi UKTV repository. The addon contains a large library of stuff to watch on Kodi. Movies, TV Shows, Top 50, Classics, and many more areas make up the Mercury Addon for Kodi. This plugin allows you to access a wide range of material. Furthermore, the Mercury Kodi addon offers programs that are available 24 hours a day, seven days a week, to keep you engaged anytime you want. The addon's library is updated on a regular basis, ensuring that you have access to the most recent information. Because the addon scrapes links from high-quality sites, it may provide movies in a variety of resolutions, including 4K, 1080p, and 720p. Learn how to install the Mercury Kodi addon on FireStick, Windows, Android, Mac, Nvidia Shield, Mi Box, and other Kodi-compatible devices by reading the instructions below.
Mercury Kodi Addon
Why is it necessary to use a VPN with Kodi?
There are several addons available for Kodi that serve a variety of functions. Some addons are only available in certain parts of the world. Your IP address is given to your ISP when you stream, and they may simply figure out what material you're watching. A VPN service is required to prevent these challenges and circumvent geo-restrictions. There are other VPN services available; we suggest ExpressVPN since it allows you to view your favorite content from anywhere in the globe while also providing security while using Kodi.
What is the Mercury Kodi Addon and how do I install it?
It's easy to set up the Mercury Addon on Kodi. Install the addon on your Kodi-compatible devices, such as Windows, Mac, FireStick, and more, by following the steps below.
Prerequisite: On your Kodi, enable the Apps from Unknown Source option before installing any third-party addons. To do so, go to Settings > System Settings > Addons > Unknown Source > Enable.
Step 1: Open the Settings menu on your Kodi Media Player.
Step 2: In the settings box, choose File Manager.
Step 3: Next, from the left-hand menu on the screen, choose Add Source.
Step 4: Select the choice and press the OK key.
Step 5: Click the OK button after typing in the Mercury Addon Repo URL: http://kodiuk.tv/repo.
https://dejavurepo.github.io/ has been updated.
Read more about how to install the TV One Kodi addon. The Best IPTV Addon for Live Streaming
Step 6: Click the OK button after entering the kodiuk's name.
Step 7: Double-check that the information you provided is accurate, then click the OK button.
Step 8: Return to Kodi's home screen and choose the Addons option.
Step 9: Go to the upper left corner of your Kodi program and open the Package Installer.
Step 10: Select the option to install from a zip file.
Step 11: A pop-up window will appear; just pick the kodiuk.
Step 12: Open the Mercury Repo zip file repository by clicking on it. Click on the OK button after downloading kodiuktv-1.1.1.zip.
repository.DejaVu-x.x.x.zip
Step 13: Wait a few minutes for the Repository to download and install on your device. A pop-up will appear in the upper right corner of the screen when it is finished.
Step 14: Select Install from Repository from the drop-down menu.
Step 15: Select the KODIUKTV Repo from the list of available repositories.
Repo DejaVu
Step 16: To access it, click Video Addons.
Step 17: From the list of video extensions, choose Mercury.
Step 18: At this point, To install Mercury Addon on Kodi, click the Install option.
Step 19: A pop-up window will appear, listing all requirements and addons. Simply click OK to install them.
That's all; your Kodi-enabled devices are now ready to stream your favorite movies and TV programs.
Final Thoughts
Mercury Kodi Addon is ideal for movie buffs who want to watch the most recent releases. The addon may be utilized by all types of Kodi users since it covers a broad variety of material. There's a lot to discover with this addition. It also includes a user-friendly layout that makes it simple to browse through the contents. We hope you found this information helpful in installing the Mercury Addon on Kodi. This technique will work on any Kodi-compatible device, including the FireStick, Android, Windows, Mi Box, Nvidia Shield, and others.
Thank you for taking the time to read this article. Please leave a remark below if you have any questions.
Related
Watch This Video-
Frequently Asked Questions
How do I install mercury on Kodi?
A: There are many tutorials online that will walk you through how to install mercury on Kodi, which is the best kodi package for music.
How do I add 18.8 addons to Kodi?
A: To add 18.8 Kodi Addons, you will need to first install the Plexus plugin on your Kodi device. After this is done and you are able to access Plex from its app drawer, follow these steps below for installing any addon that has an .apk file associated with it.:
1) Go into the Plex App Drawer in a new window or tab 2) In the top left corner of the screen select Install From Zip File, which should be located under TV Shows, then click on either Install From Local Disk (if available), or Install From URL 3) Locate where you have downloaded your desired addon ZIP file 4) Select choose what packages (.py files?) do you want installed 5) Click OK when finished
How do I install third party addons on Kodi?
A: If you would like to install third party addons, its best to go through the official Kodi site and follow their directions.